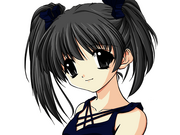 Appearence
Teru Nakashii is a 15-year-old-girl who has a dark back story. She has a short Black hair-cut and brown eyes,
Back-story
Teru Nakashii

Date Of Birth

May 17th

Current age

15

Family

Jack - Brother (deceased) Lana - Sister (Deceased) Claudia - Mother (deceased) Shion - Father (Deceased)

Status

Student/Theif

Eye color

Brown

Hair Color

Black

Height

5 ft.

Alias

N/A
Other

Afiiliation

Theif

Weapons

N/A

Species

Human

Home

England
She had to watch her brother, sister and parents get killed, during a robbery. She managed to escape, leaving everything and never wanted to return, whilst running away from the robberry, she found herself running into Natalia; who had also lost her parents a short while ago, they quickly became good friends, and Natalia taught her all the techniques of theiving in order to get through.They are currently working together as theives, to get anything that they need such as food and drink.